"Art washes away from the soul the dust of everyday life." ― Pablo Picasso.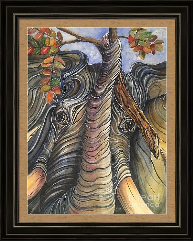 Mastiff Studios
A gallery, education, and healing facility grounded in the idea that art can enhance life.
Hi,
I'd like to introduce myself, what I do, and how I got here. I'm Amy Brown, a Colorado native. My education has consisted of coursework from Adams State University, Metropolitan State University (BFA), University of Northern Colorado (MA), CU Boulder, Kent State, and Trauma Informed Practices and Expressive Arts Therapy Institute. As an educator, I currently hold a Colorado license to teach art, English, and Diverse Linguistics.
I started teaching art in the early 1990's at a small rural high school. Friday night football games were a community event. Home economics was still a class, and kids in Ag class actually drove the family tractor to school once a year. Within three years, I met a guy, married, and had an adorable baby girl. Life had its ups and downs, but it seemed that I had found a great groove.
I had always gotten sick on and off, but I figured it was normal for people to do. Frankly, I had struggled for years with fatigue and leg problems, but doctors came up with a slow thyroid and too much work. The problems seemed to ebb and flow. Then one day, I took my daughter to the doctor for a cold. Our family doctor stopped the exam, looked at my face, and ordered me to the emergency room. That was shocking. I remember being stunned and asking why? She said half of my face was not moving. After many tests, nothing came back. Finally, I was sent to a neurologist. He performed a spinal tap. Turns out I was positive for Multiple Sclerosis. Over the next several years, my illness did not respond to the drugs available.
During this time, my family was without a dog. After researching, the dog breed that would match our family was the mastiff. We adopted our first English Mastiff through Mastiff Rescue. Sam was a great fit as a family pet, but he did something very special for me. Sam became my helper dog when I needed it. When I struggled with stairs, Sam would walk in front of me so I didn't fall forward, and when I needed to come up, he would prop me up and pull me. Sometimes I would fall for no apparent reason. Good old Sam would come over, sit down, and help me up. For an untrained dog, I was stunned. This is where the name Mastiff Studios comes from.
After a few years, the illness got to the point my doctor told me I needed to retire from teaching. By now, my daughter was seven years old. Sometimes, I would be so ill she would take care of me.
At this time, my neurologist offered me a drug that had was being allowed on the market under strict guidelines because of several people dying. I was one of the lucky ones it helped. After a couple of years, my neurologist released me to return to work. I found a position in Denver, and after a decade, I decided to leave to further develop the magic that I found in the art room.
Over the years, I noted that art class could do something that no other class seemed to be able to do. It has a certain magic that inspires kids to share, grow, and change emotionally. I knew it was there, but even after years of teaching and continued education, I had never been able to put my finger on what exactly made the magic happen.
Then, I actually clicked on the Expressive Arts website. I'd seen it a few times, but I figured it was a scam or hoax of some sort, so I passed over it. After I did my research, it turned out that this is a legitimate program that is open to people who have earned their MA in visual art, music, or therapy. I signed up and started to take classes. This relatively new branch of psychology is filling in the blanks between the creation of art and the healing process that I had noted would happen randomly with some students. I am synthesizing art, education, and psychology into an art intervention program that aids in psychological healing. I'm not a therapist of any type. I'm an art educator with an intervention for people that helps them to heal using art. I received my Trauma Informed Art Therapy certificate in February of 2018.
As for the rest of the story, I still have MS. While my "recovery" from a chronic illness has been miraculous, I still have flair ups, and I do have symptoms that I will always struggle with. My lovely daughter is in college in Colorado, and our third mastiff Spartacus blesses our home.
At this time, I am pleased to announce that I have taken a position teaching English to high school students who are not native English speakers. I enjoy my new job very much. There will be more art coming up all the time. I am sure that you will find interesting pieces that you enjoy.
Sincerely,
Amy