Mastiff Studios Makers Market
In the dog wold, the English Mastiff is a gentle giant who is dignified, good natured, and patient. These amazing furry friends are great family dogs and companions.
At Mastiff Studios Makers Market, our goal is to create a warm and inviting space for artists and art lovers to come together in community and creativity.
Originally Mastiff Studios was the name of Amy Brown's art space for several years. Then in 2022, she expanded her studio to a brick and mortar shop located on the West Side of Colorado Springs in an area known as Old Colorado City.
The shop is located in an 1899 Victorian on Colorado Avenue down the block and across the street from the early Old Colorado City court house which remains standing. Old Colorado City was completely incorporated into Colorado Springs by 1917.
Old Colorado City was known to be a bit wild back in its early days. Full of history and fun, Old Colorado City and Mastiff Studios are definitely great places to visit.
J

ewelry & Gemstone Art
Candles, Incense, and Cones
Pop and Retro Pieces
Drawings & Paintings
Resin Cups and Crafts
Sewn Kitchen Goods
Ms. Mary creates a stunning beaded necklace using the PRAW stitch using size 11/0 and 8/0 seed beads.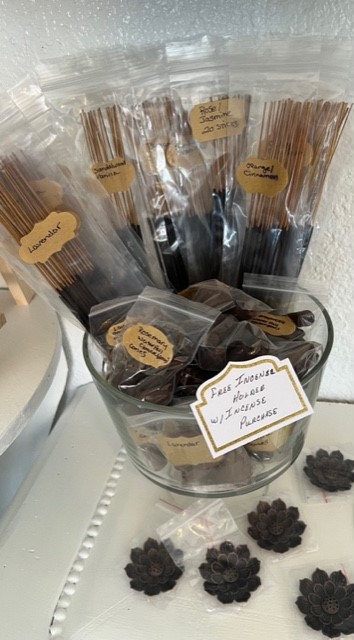 Handmade essential oil incense by Erin Lownes is a staple at the market.
This is a customer favorite.