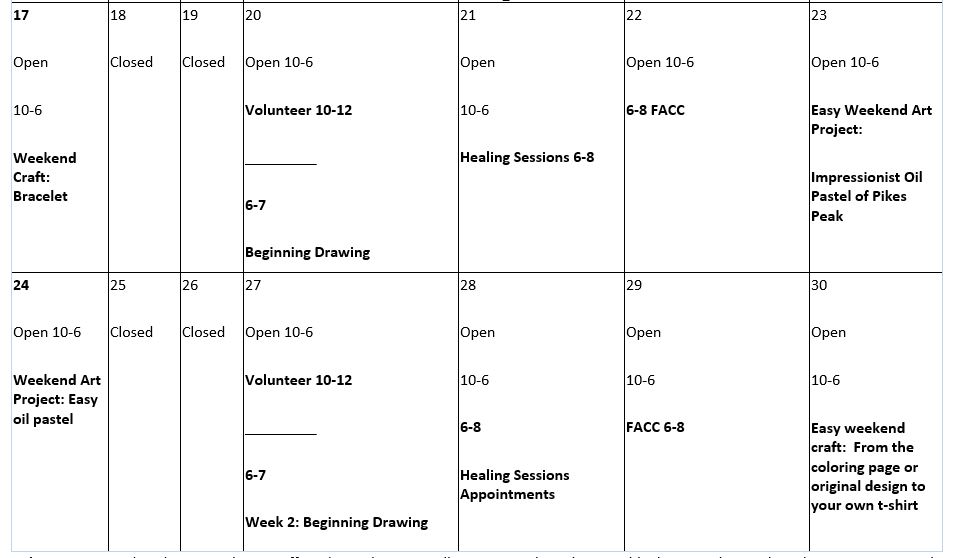 Volunteering: Wednesday 10-12 the Mastiff Studios Volunteers will meet to work on the Linus blankets or other art-based items to improve the lives of others.

FACC: Friday Afternoon Craft Club. The purpose of this time is to socialize and unwind while working on crafts that are shown to reduce stress and cortisol in the body. If you are an accomplished fiber person, please feel free to bring your work. If you are someone wanting to learn crochet, embroidery, knitting, or another fiber art, Mastiff Studios will have basic materials on hand to learn. Please bring a beverage of your choice and a snack if you wish. This is an extended open studio with a $10.00 fee for the evening.

Basic Drawing Classes: This is an excellent course for a beginner or an intermediate artist who needs to brush up a few skills. The class will meet Wednesdays from 6-7 pm for six weeks beginning June 20. There will be no class July 4, but we will resume class the following week for the remaining four sessions. Please feel free to bring food and beverages of your choice. You will learn the fundamentals of drawing and design, and hopefully have fun. Adult, High School Students
Basic Drawing Classes: June 20 to August 1. One hour of instruction per week and two hours of studio time per week. The studio contains basic drawing materials. $180

Art Healing Sessions: These are art-based interventions that incorporate expressive trauma techniques, Restorative Justice techniques, educational practices, as art healing applications. Expressive art healing is a relatively new field of study. To learn more go to Mastiff-Studios.com. During the month of June, if you are interested in learning more or would like to try an exercise with Amy Brown, please call and schedule an appointment between the hours of 6-8 on Thursdays. A session for an individual lasts approximately 30 minutes, but group sessions last one hour. As a client you will receive two hours of open studio time per session. Initial consultation meetings are free.