Starfish Pattern
This is an illustration from a series of sea life images that I created for a book. The book never made it to through publishing, but I really liked the artwork that I created.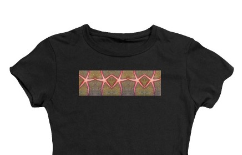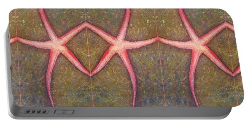 Kissing Camels Midnight Ride
There is a rock formation in the Garden of the Gods called Kissing Camels. Silhouetted against the night sky, it looks like two giant camels kissing. There are many places named after this in Colorado Springs.
The key belongs Harley Davidson rider out for a night time spin. This area of Colorado is breathtaking with a full moon spilling cold light over the Garden of the Gods at night. I opted to use a skeletal hand and arm to further the idea of the ride or die attitude many bikers seem to have.
In Colorado, I would venture to say that motorcycle riding is the modern version of going horseback riding. I know many people will get on their bikes just for a ride to see the sights. Some people even make the ride into a game by having poker runs.
The image is available of a variety of items. Here you can see the main image of what the artwork looks like. The t-shirt featured comes in 17 colors. The travel mug is well made and will take your favorite beverage where you want to go.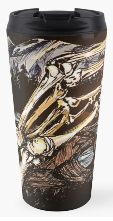 Mom and Baby Elephant
This majestic mother elephant is gently holding her baby on a summer day. The season is drawing to a close. The grasses are turning brown, the sky is filled with fluffy clouds, and the trees are silhouetted against the afternoon sun. Both the mother and baby have been painted by people who love and care for them.
I love elephants, and how they care for their children. My goal was to create an image that celebrates that love of a mother for a child.
Race 2020
When I started this piece, I wanted to capture the turbulence of the race relations that exploded during 2020. As riots swept the country and protesters took to the streets, I stepped back and watched. I formulated my opinion of what I saw, read, and heard. This piece was created as a reflection of society, and how events shape our future.