Mastiff Studios Makers Market
Beginning Quilting
Make Mary's Heart!
Instructor: Mary Perkins
This four week course has been developed for small group instruction, so students get the individualized attention needed to be successful. Space is limited to four learners.
Requirements: Students must bring their own sewing machine and will be purchasing their supplies from a list compiled by Mary. While this is a beginning quilting class, it is not a beginning sewing class. Students should know how to use their machines and have basic sewing skills. Age: 12 and up (students under the age of 18 must have a permission form from a parent or guardian)
Class information:
Cost $125
4 weeks: Saturday mornings 10-12
June 3, 10, 17, 24
How to sign-up for the class:
Contact Mastiff Studios by email at mastiffstudios@hotmail.com
In person, stop in Saturday between 10-4.
Payment in full is required to secure your spot.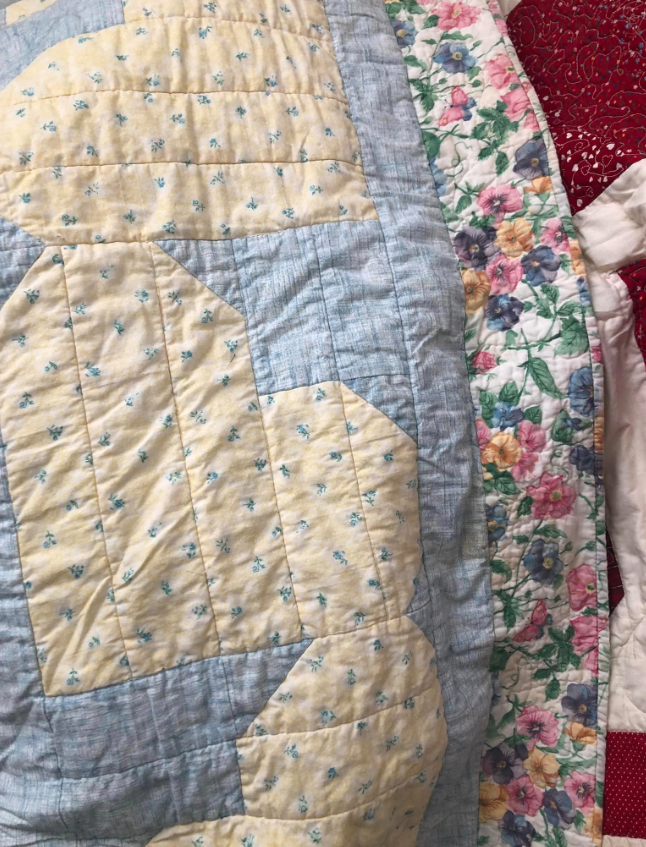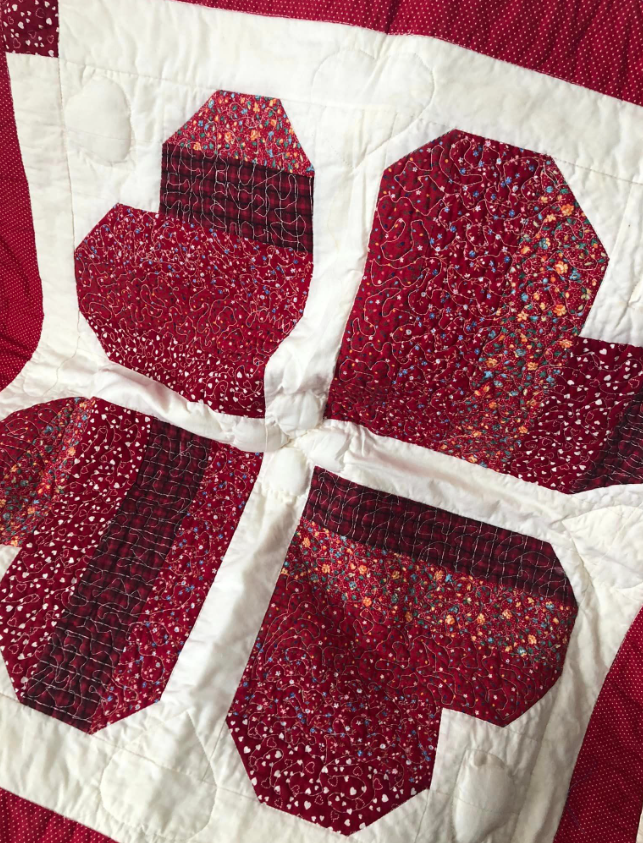 Mary Perkins
Instructor
Mary and her husband settled in Colorado Springs after he completed his military career to raise their family. As a vital member of the Colorado Springs community, Mary has worked in jobs that support communication and the arts. A long time position she held was a Joann Fabrics where she instructed a variety of classes to multiple age groups. As an artisan, Mary seems to be able to master just about anything she tries. At the Makers Market, she sells jewelry, crocheted gnomes, sun catchers, and poured paintings. Mary has graciously offered to teach a beginning quilting class to our community. With decades of quilting experience, Mastiff Studios Makers Market is pleased to feature Mary's beginning quilting class in June. Don't miss your chance to make this adorable heart themed gem.
Drawing and Painting Classes
Beginners' classes are a series of classes that can be taken in succession or individually as needed. It is suggested that if you are starting on your art journey that you take classes from the beginning. Classes last approximately 1 hour. Individual classes are $30 per session, and small groups are $20 per person with a maximum of 4 students.
You will need to purchase your materials for these classes. Stop in or email for a supply list. Schedule the class during shop hours. Payment is due at the time of class.
Drawing: series 1, 10 lessons in pencil drawing. Basic drafting skills to include sketching, line drawing, shading, landscape, the human head, the human body, and perspective (one point)
Drawing: series 2: 10 lessons in colored pencil drawing and application: to include landscape, human body, portraits, and still life
Drawing: series 3: 10 lessons to include pastel, oil pastel, charcoal, and ink
Color theory introduction: 5 lessons using acrylic paint to learn the basics of color theory and art
Watercolor 101: 10 lessons: basics of watercolor with easy projects to help you learn
Mixed media: drawing and watercolor hybrid
Paint and sip style classes last about 2 hours with a painting or activity to match the preference of the group. Price will be determined according the number of painters and the materials required. Email Amy at Mastiffstudios@hotmail.com or call/text 303-656-1428 to design your event today!
Open studio sessions with help when needed $10 per hour
Open studio sessions without help, free. Come on in and have a seat, chat with your friends, and work along.
Healing Sound Sessions with Erin Lownes
The healing properties of sound have been used throughout the ages with a variety of cultures in order to help move the participant from a place of imbalance to balance.
Erin is a certified expert practitioner is sound healing. During a session, she plays a variety of bowls that emit sound frequencies that you will focus on. As you listen, generally the Alpha waves (meditation, creativity, and relaxation) and the Theta waves (visualization, trance, and dreaming) are stimulated to help you reach a deeper state of consciousness, an increased sense of well-being, a feeling of restfulness, and self-awareness.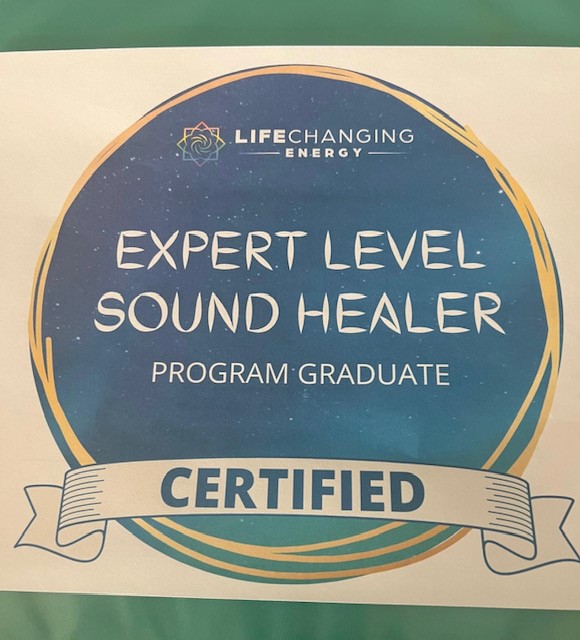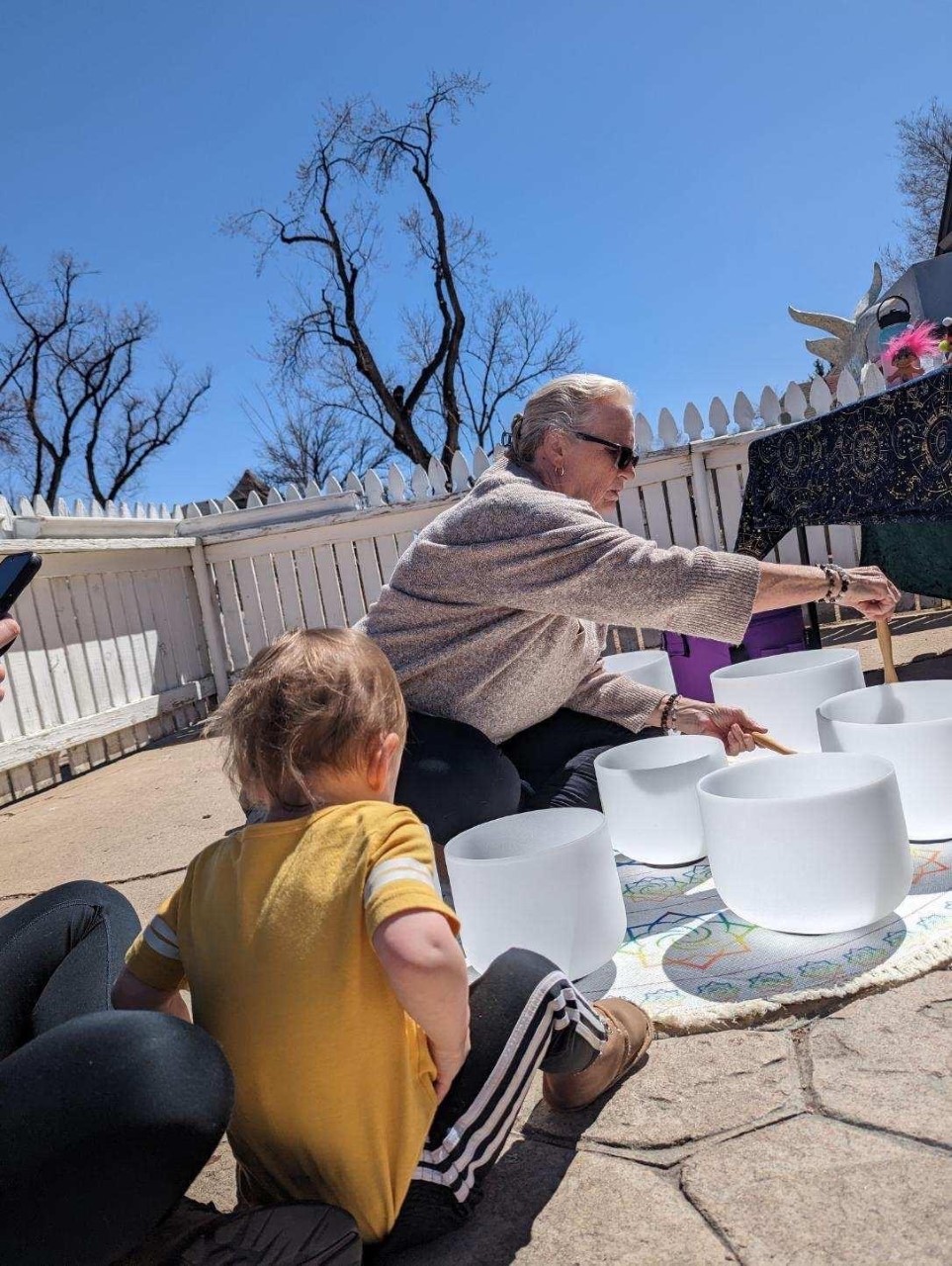 Fluid Acrylic Painting Classes
Each class is lasts 2 hours for individuals or small groups
$45 per class for individuals or $40 per person for 2-4 people
Introductory Class: Students will learn how to mix paints, a variety of paint application processes, and what to do with all that left over paint. Students will complete a painting during this session that will need to be picked up after it is dry. Contact Miss Mary at MsMary2919@gmail.com for a list of supplies needed for this class or questions you may have. To schedule the class, call/text 303-656-1428.
Advanced studio process classes will include advanced pouring methods.
Student choice studio class. Bring in any item you would like to paint from canvas to furniture.
Beginner Bead Weaving Class
Based on a pattern Jill Wiseman
June 3 from 1-3 pm
There are six spaces available to make this beautiful bracelet from Superduo and 11/0 seed beads. Contact Miss Mary at MsMary2919@gmail.com for a supply list.
Cost: $30 per person
Multi Strand Beaded Necklace
June 17 from 1-4 pm
There are six spaces available to make a multi-strand beaded necklace. This is a great opportunity to use up your stash. Please email Miss Mary at MsMary2919@gmail.com to receive a supply list.
Cost: $30 per person
Amy's Art Classes
Amy Brown offered a series of classes that range from beginning to advanced level instruction. Amy Brown is a certified K-12 art instructor for the state of Colorado with over 25 years in a public school classroom. She has earned both a BFA and MA in visual arts.
She teaches at the Market by appointment for individuals and small group lessons. Generally lessons are held during regularly scheduled business hours. Children under 13 must be accompanied by a supervising adult. Students 13-18 must have a signed permission form for the class.
See samples of Amy's work at Amy-Brown.pixels.com and Mastiff-Studios.Redbubble.com